New Patients Welcome
The Somerville Village Clinic is the longest serving medical centre in the Peninsula region. We are committed to providing the highest quality medical care to members of the local community and beyond. Our clinic has a fully equipped treatment room with nursing staff, onsite pathology, allied-health services, and friendly, welcoming staff.
Clinic News
General Practitioner Required – DWS area
Our Practice is seeking either a part time or full time VR GP.
We are a long time established, busy, accredited & computerised clinic. Our team consists of 5 doctors with dedicated staff and excellent nurse support. Our services include an on- site pathology collection centre and Allied Health Services.
For enquiries, please contact our Principal Doctor or Dianne – Practice Manager on 03 5977 5231 or email: svclinic.au@gmail.com
---
---
Please join us in welcome Mr Aun Asokarajan to Somerville Village Clinic
Arun graduated with a Bachelor of Physiotherapy from The University of Melbourne in 2009. He is passionate about helping his patients with their injuries and pain, providing thorough evidence-based therapies. He has an excellent grasp in treating musculoskeletal conditions, with emphasis on sports and spinal therapy. Arun prides himself in continuous personal development to deliver high quality care to all his patients. He has completed training in Dry Needling, DMA Clinical Pilates, and countless Sports Medicine and Spinal Courses. BULKBILLED EPC's , WORKCOVER, TAC, PRIVATE AND DVA services available.
---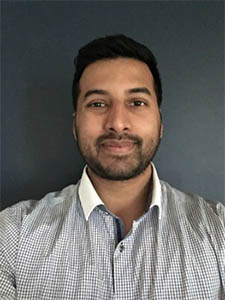 INTRODUCING Dr Yong Zhang who has recently joined Somerville Village Clinic.
Dr Yong Zhang has had extensive experience in Monash focusing on children's health and adolescent health. He has also worked at Dandenong Public Hospital, and a clinic in Pakenham where he ranked number one in patient satisfaction in the area.
Dr Yong Zhang enjoys all different aspects of general practice with special interests in children's health, aged care management and is looking forward to meeting new patients.
Dr Yong Zhang joins a professional team of doctors and allied health professionals including a podiatrist, clinical psychologist and practice nurse.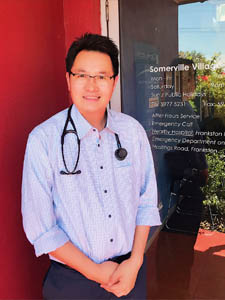 ---
25 Eramosa Road East, Somerville, Victoria, 3912

(03) 5977 5231

(03) 5977 8707
---
---
Monday – Friday 9:00am – 6:00pm

Saturday-9:00 – 12:00pm

Sunday/Public Holidays-Closed