Services
To Make an appointment phone 03 5977 5231
New Patients are welcome at any time
Walk-in appointments is also available
The services we provided at the clinic include:
Family Medicine
Children's Health (Dr Yong's specialty)
Skin Cancer Checks and Management
Chronic Disease Management
Immunization
Women's Health
Health Assessments
Mental Health
Podiatry
Pathology service
Physiotherapy
Test results
It is our obligation to protect the privacy of your medical information. Please make an appointment to see your doctor for any test results as we do not give results over the phone. Most tests will be ready within 2-3 days.
Fee information
The Somerville Village Clinic does not routinely bulk bill.
Dr Dana and Dr Jill charge fees on Health Care Card holders/pensioners.
Other doctors bulk bill pensioners, Health Care Card holders, children under 16 and Veterans' Affairs patients.
Weekdays: Standard consultation $70, Long consultation $105
Saturdays: Standard consultation $75, Long consultation $105
Allied Health Fee Structure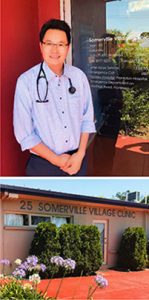 Physiotherapy
Care plan bulk billed
New patient $80, follow up: $70
New patient with Health Care Card/Pension:
Initial cost: $70, follow up: $60
Podiatry
Care plan bulk billed
New patient $70, follow up: $60
New patient with Health Care Card/Pension:
Initial cost: $62, follow up: $58